Wow! It hasn't been since August that we have had an electronic newsletter. Sorry about that people. Well, here goes brining us up to date for 2007.


September Meeting notes


- Present at our September meeting were Gary, Mark, Jim, Don B., Chris, Winston, Bernie, Kyle, Dave, Ed, Scott and a surprise visit from Hap Wolfgram. Hap lives in Wausau, Wisconsin and he was in town in business and decided to stay on and attend our little gathering. Thanks for stopping by Hap!

- Though Chip was unable to attend, our treasurer stated that the 'Best Figure' award for the upcoming TCAH show has been paid. It was voted on by members present that Winston would judge for the award (with Dave Nelson helping out with Winston's booth when he was judging). A motion was made and a vote taken of 10 yeah and 1 no (someone had to be different).

- Club shirts are on hold for the present. Scott stated that he would try and look into the matter. He may be able to come up with embroidered patch that could be used instead of an embroidered onto the shirt.

- In August members went to the Minneapolis Institute of the Arts for a field trip as our monthly meeting. Chris Barrett's favorite piece 'The Carpet Merchant' was a big hit for many. Several of the members mentioned the traveling exhibition on arms and armor. A future field trip meeting was discussed for the traveling star Wars shows to be held in the Science Museum next June of 2008.

- Bernie wanted to remind MMFS members of the MSN's meeting on the second Tuesday of each month.

- Nordicon has really been growing. Members of the MMFS that are also TCAH members stated that 2007 might be the last year for Nordicon at Fleming Field. They also stated that an AMPS style of judging will be tried this year.

- Winston wanted to remind members of the AMPS show in Indiana April 10 12 2008. This is the biggest armor model show in the nation.

- Dave Nelson said that he had a whole slew of armor pictures from Aberdeen and Bovington he would be willing to share. He is in the process of getting them onto DVDs.

- Unfortunately our September demo had to be cancelled. Jim was planning on having Yogi come and talk again. Apparently Yogi was offered a paying event to talk. Can't blame him considering we were offering just our gratitude.


September Pictures


01. One view of Gary's 30 mm 'Tomb King Chariot'. It is a Games Workshop figure. Once again Gary is the tops in creative subjects.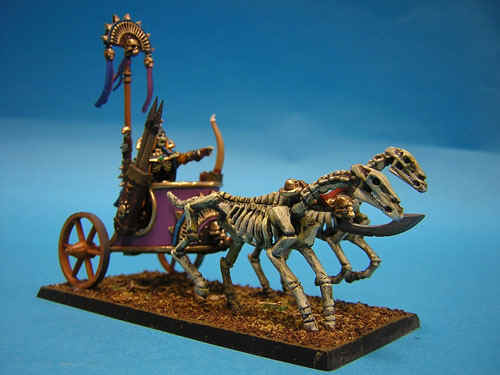 02. Another view of Gary's colorful chariot.


03. Close-up of the sparkling eyes of the undead.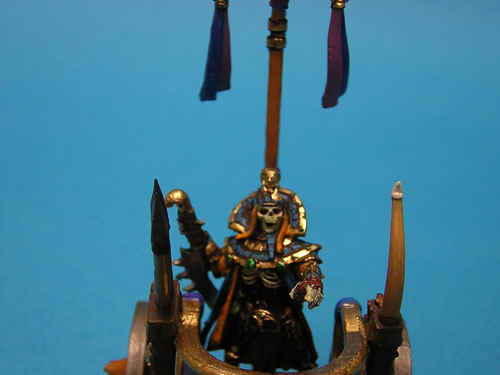 04. Gary brought in one of Merrill's creations. Look at the super detail on that cockpit interior.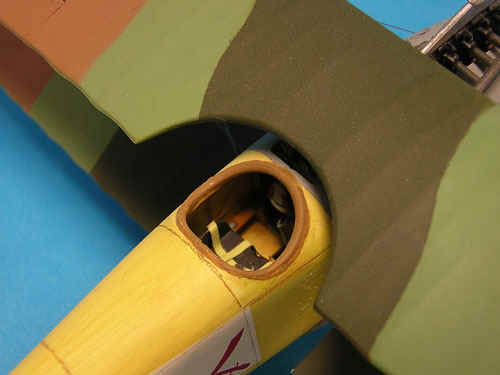 05. Overall view of the Eduard Albatross DII in 1/48th scale. Merrill scratch-built the cockpit interior.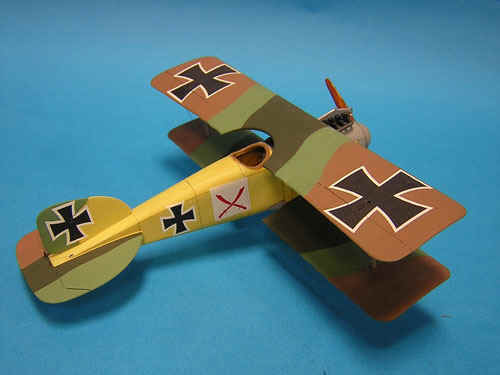 06. Another Merrill trademark is the wood grain on his propellers.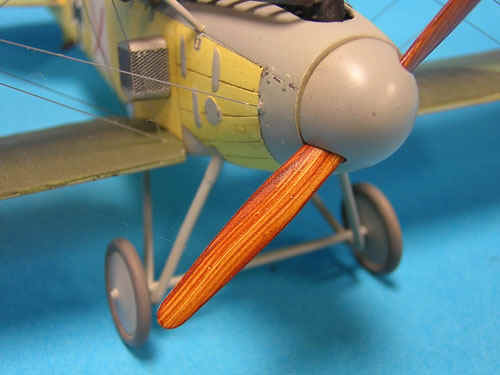 07. One of our youngest members Kyle Nelson is a building maniac! This is hi9s version of the Trumpeter KV-1 model 1942.


08. Kyle stuffed a Panther engine into this KV. Could this really be done? Who knows?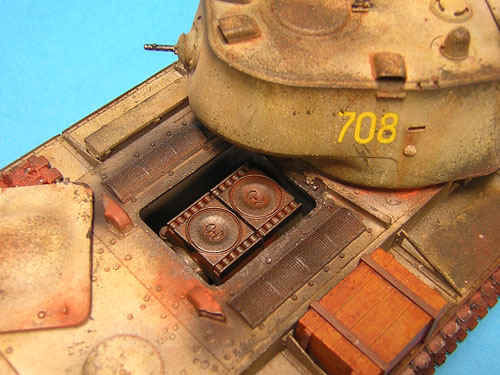 09. Kyle also brought in this DML SU-100. How many of us could weather an armored vehicle when we were 15 years old?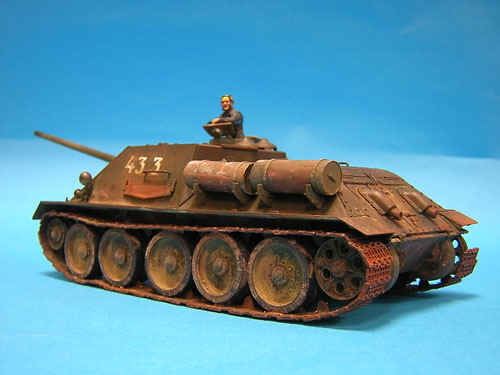 10. This is a 30mm Chaos Lord new and improved by Kyle.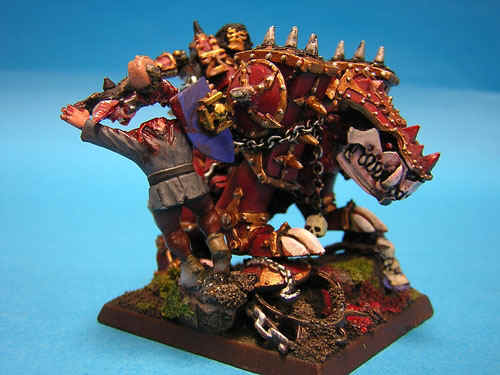 11. One of the newest kits on the market is DML's Tarawa Sherman M4A2. Looks impressive Don!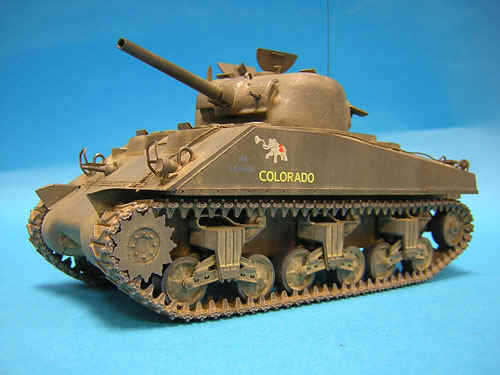 12. Great looking tracks are a trademark of Don's. Look at that subtle dusty weathering.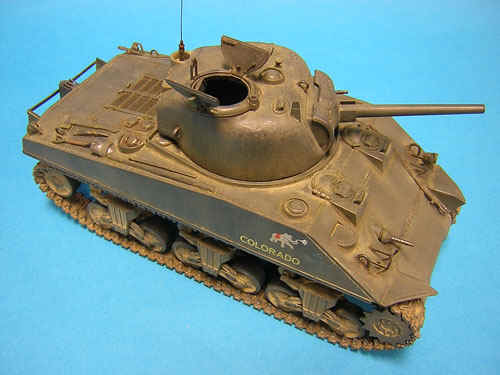 October meeting


Our October meeting was cancelled since most of the members were attending the MMSI show in Chicago


November Meeting notes


- It is starting to get cold out! Brave members attending our November meeting included Winston, Chris, Scott, Wayne, Dave, Kyle, Ed, Merrill, Steve, Jim, Bernie and Don.

- A lot of talk this meeting was the great time members had at Nordicon and the Chicago show. Many stories were told with some real good ones about Joe Laveto of the MMSI club. Joe is a US Marine veteran of World War II. He is one great person to get to know.

- A reminder that club dues will be collected at the December meeting. Dues are $10 per person for the year. It helps cover the cost of our meeting space at Fleming Field.

- There was interest in contacting Doug Thompson who lives in St. Cloud. He has an extensive collection of US Marine militaria. We were hoping he could attend and share his collection.

- Bernie informed us that Nordicon will be September 27, 2008. At this point it will be just a show and not a competition.

- Bernie also informed us that a demo using gel medium will be given at the MSN meeting on January 25th at 7:00 pm.


November Demo


Wowee! Finally a demo. July was our last demo. Don Burgoyne has come forward to give a demo of his trademark excellent tracks on his armor models. Don stated that his favorite tracks are the metal tracks by Fruil Model. He uses a homemade jig to assemble his tracks to keep them straight. Don uses this mostly on the non-workable style of tracks.

When using the Fruil tracks Don recommends to have a twist drill handy. Some shoes have to be drilled out. Don cuts his pins just a little longer than the actual shoe. He than applies some super glue on the ends and than clips the ends close to the track shoe.

Don has used 'quick age' to weather tracks at time. He found that a little vinegar and setting the Fruil tracks overnight in the solution works best.

For weathering tracks Don prefers pigments and uses Gamblin pigments available in art stores. He can mix his own colors or use straight from the container. The pigments can be applied using enamel thinner or dry. He usually mixes the colors until they look 'right'.

For wear areas on the tracks Don uses printers ink. He uses silver toned down with Winsor/Newton black oil colors.

Great demo Don and many thanks.


November Pictures


We have a large collection of pictures for this month. So let's get started.

01. Some of the work brought to the meeting by the Nelson's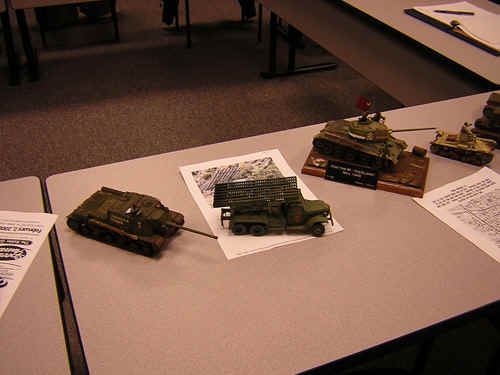 02. Once again Kyle is a building maniac. Look at all those finished models.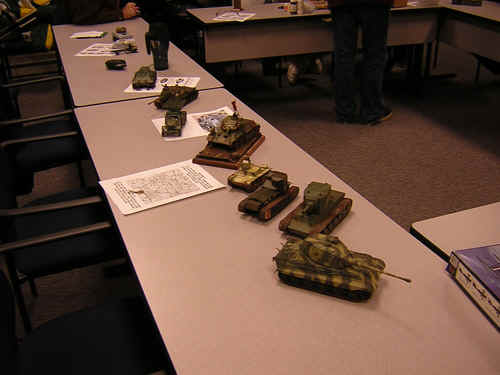 03. Winston treated us with his collection of 1/48th Tigers and Irvings. What a great collection.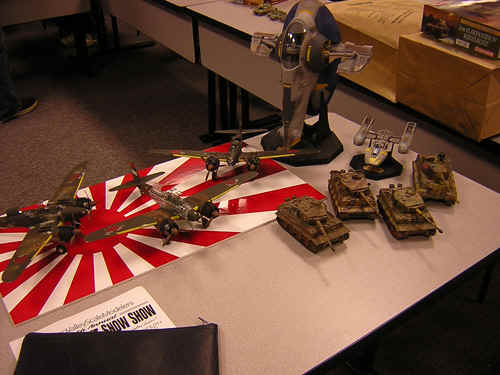 04. Dave and Chris decide where they are going to loose there money. Winston once again brings 'Wings & Treads' with him.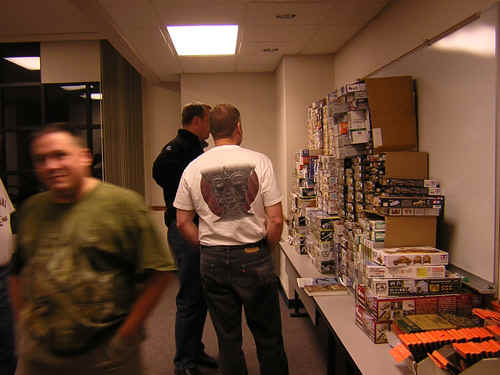 05. Kyle kneels before the tread king.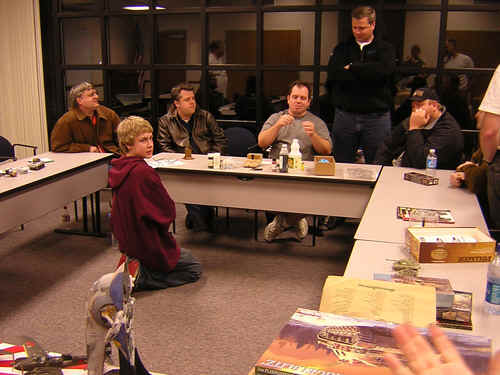 06. Don looks through his bag of goodies before the demo starts.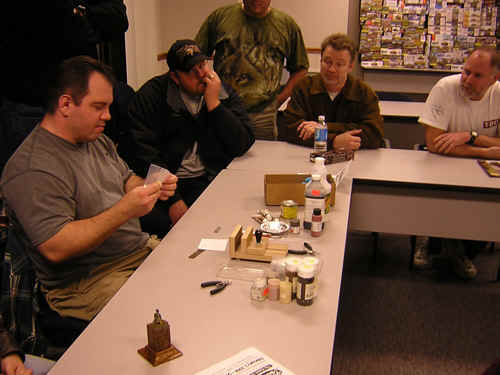 07. Don shows everyone his homemade track assembly jig.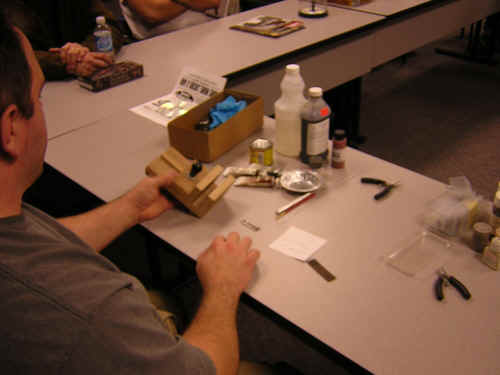 08. Don grabs the 'quick age' to get Wayne to wake-up. Friday nights can get long.


09. Don demonstrates the flexibility of the Fruil tracks.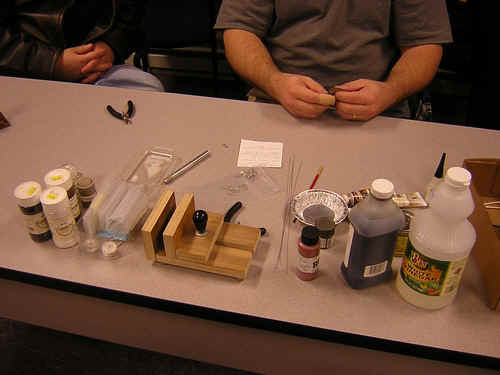 10. Here Don prepares to start weathering a set of Fruil tracks using pigments.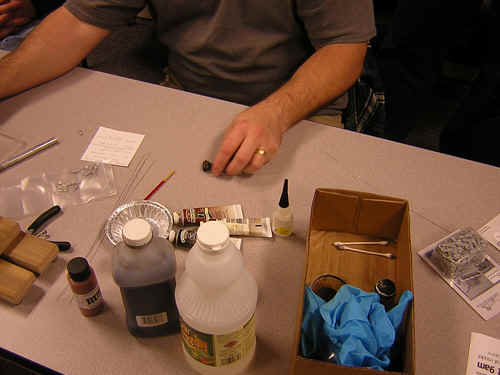 11. Don asks a higher authority if he is getting it correct.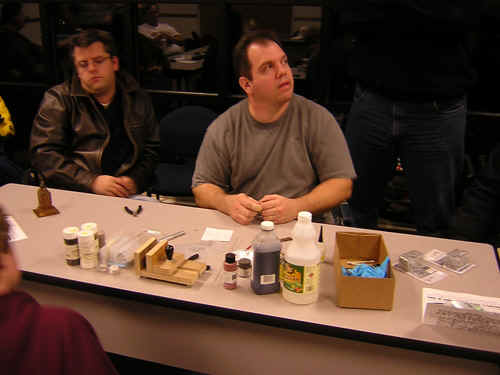 12. Here is how Don prepares his pigments for weathering.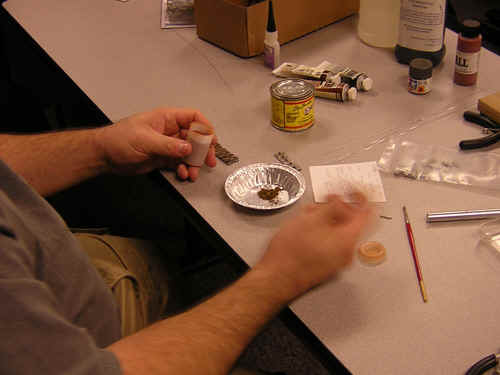 13. Jim was awarded a silver for this figure in Chicago this year.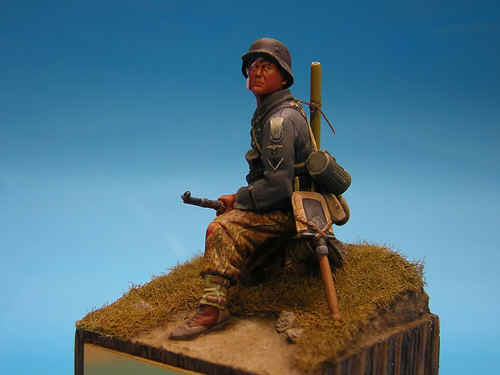 14. Jim states this figure represents a SS Sturmmann.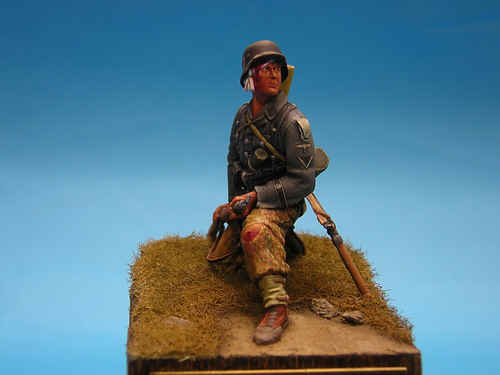 15. From the back right side of Jim's figure.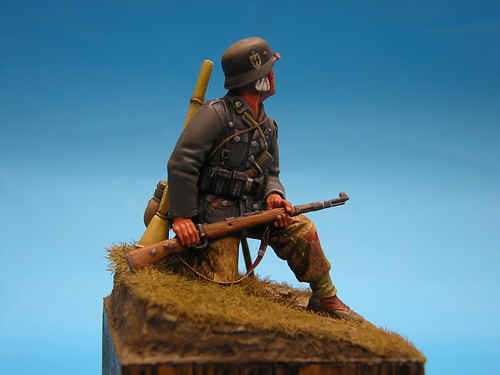 16. Jim informed us that the body is from DML and a Warrior's head used.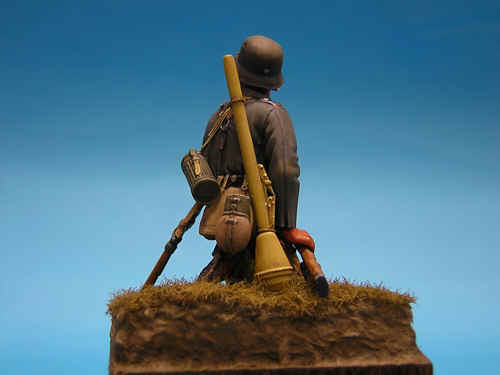 17. Jim painted the figure using artist's oils He also painted in the tear on the trouser.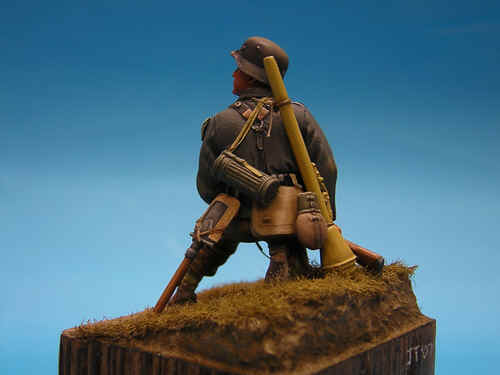 18. Jim remodeled the 'Y' straps as well as the 'O' and 'D' rings.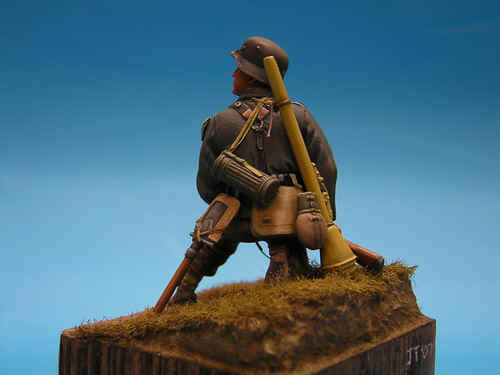 19. This is one view of Kyle's Berlin diorama featuring a Dragon T-34/85 using Tristar figures.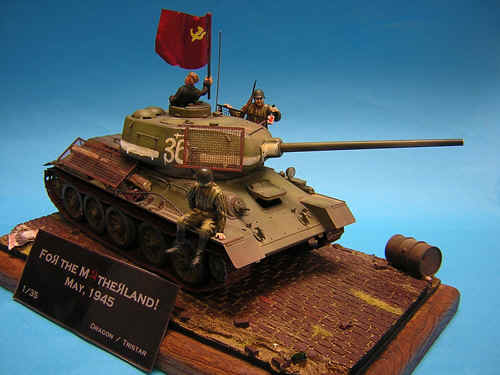 20. Kyle was awarded a gold at Nordicon for this diorama.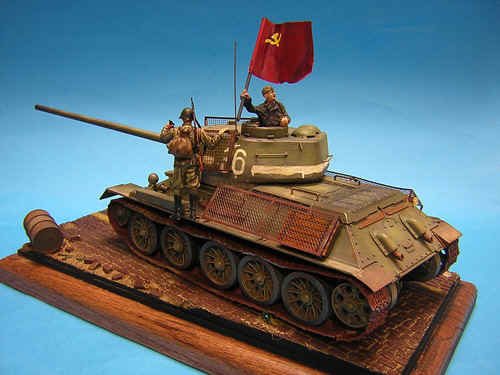 21. A frontal view of Kyle's diorama.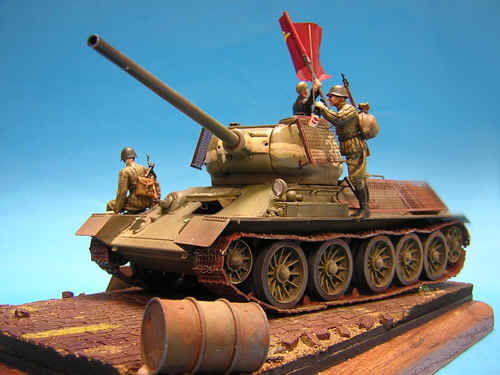 22. Front view of Kyle's monster ISU-122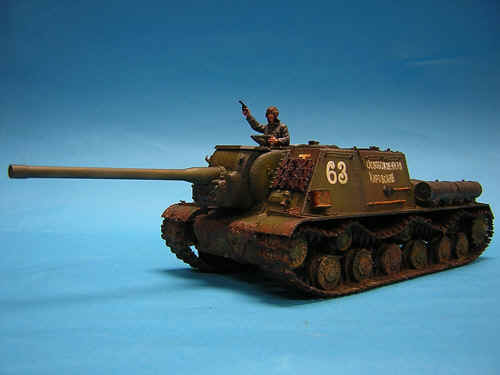 23. Rear view of Kyle's ISU-122. The model includes a Tamiya figure.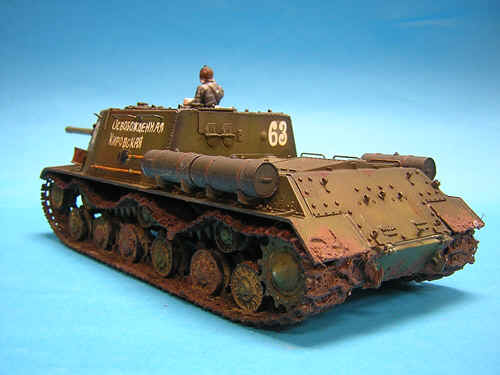 24. Steve brought in this wonderful rendition of the DML T-34/76 STZ factory version. Very nice clean well made effort.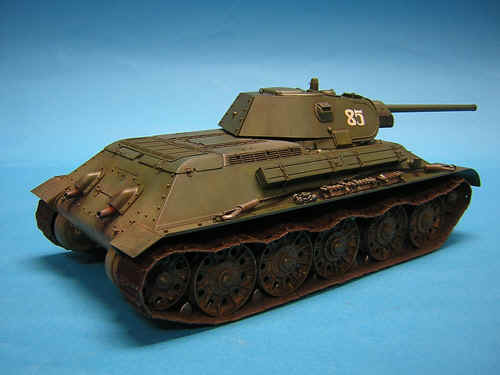 25. Front view of Steve's wonderful T-34.


26. Back to Kyle again. This time a rear view of the WW I Whippet tank.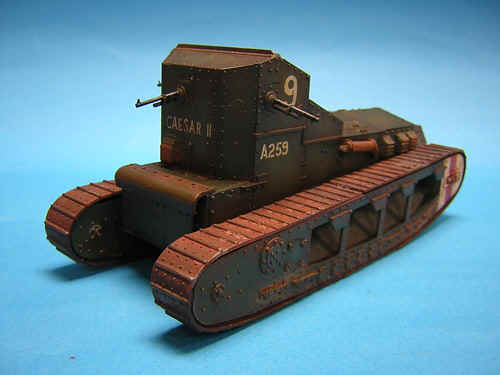 27. Frontal view of the Emhar Mk.1A Whippet constructed by Kyle.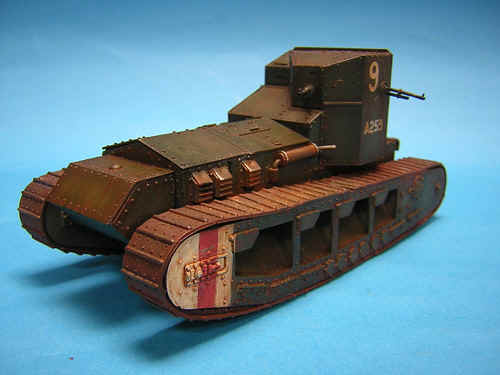 28. Mike Jacques has done a great job on the 1/87th Ro-Co Nashorn.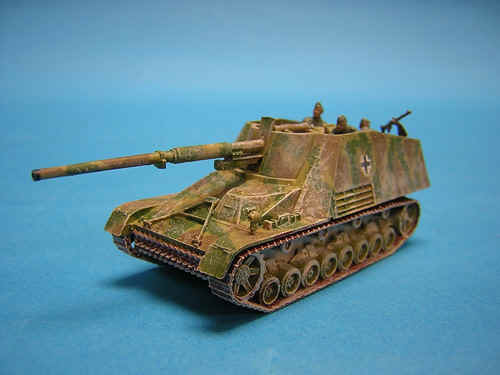 29. Mike Jacques also brought in this 1/87th Trident resin E-100. Amazing what Michael can do in such a small scale.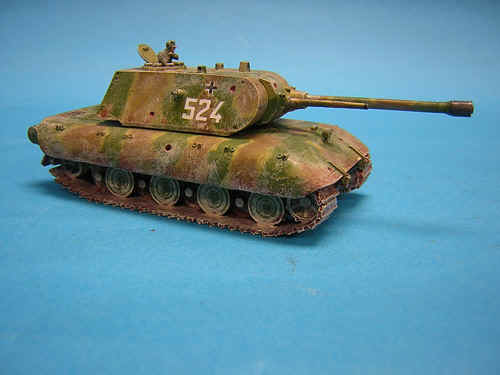 30. Winston brought in some really surprising and creative pieces. This is the 1/48th scale Fine Molds Slave 1 from the Star Wars series.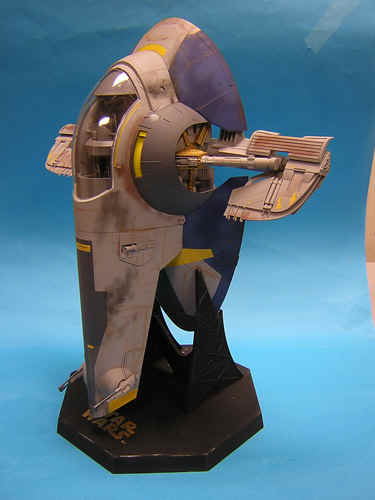 31. Another 1/48th scale creation from Winston. This time the amazing Y-wing. Just outstanding.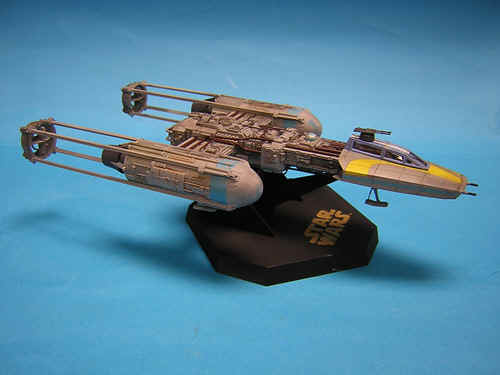 December Agenda


December is our party month. Bring in items for our raffle. Videos and DVDs are welcome. Just have a great time. The only real business we will have will be the collection of dues for 2008. Dues are $10 per member. Scott did e-mail us that he will have some information about club shirts. Just hang loose. Food, talk and camaraderie are the activity for our meeting!