Our May meeting is coming up this week on Friday May 12 at 7:30 pm being held once again at Fleming Field in Inver Grove. The weather is turning nice and attendance usually drops. Let's change that everyone and have a great showing this Friday.

April Meeting

Our last meeting was held on April 14 with Mark, Bernie, Chris, Wayne, Scott, Jim, Ed, Brent and Don B. in attendance. Thanks to everyone who attended helping make the meeting all that more enjoyable.

Wayne discussed the model show in Fairmount, MN. It is apparently the first year of the show and Wayne compared it to the Zumbro show held near Rochester. He described the models on display mostly dominated by automobiles. Gary Anderson was also in attendance. Wayne received a 1st for one of his figures and Gary once again a 1st for one of his sail ships. The show was held on March 25.

A good deal of our meeting was dominated by Jim. Went spent a good deal of time discussing the upcoming Militaria Show on April 22nd. Most people planned to attend Saturday only from 8 to 6. Jim reserved 3 tables and once again asked Yogi Pusch to attend as a special quest.

April demo

The remainder of the evening was dominated by Jim (a.k.a 'El Greco') discussing what he does to convert figures. On hand to show his work Jim had on display 3 figure vignettes showing his conversions. Jim described the lengthy process he goes through in finding reference and inspiration for his figure conversions. He said his main influences have been famous modelers Doug Cohen and Bill Horan. Militaria Magazine of France his Jim's bible when it comes to reference. He usually cuts out the reference he needs and binds them into a separate reference file. Jim uses Bill Horan's book for anatomical positioning of his figures. Great demo Jim and of course the figures are coming out very nicely.

May meeting

Our agenda is very light for May. Any items for discussion can be brought up at the meeting on Friday. For May, Bernie Kugel will be will be demonstrating his weathering techniques that he uses on his armor and aircraft.

Photographs

1. Here Chris pushes Jim's little button to get him started. Darn these cyberJims!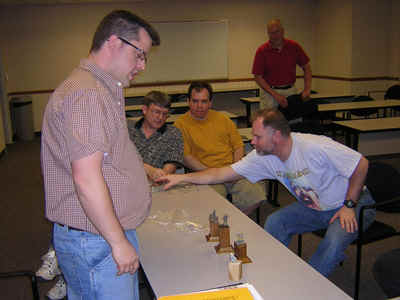 2. What's that I smell says Don. By looking at Ed's face we know Jim had Greek beans for supper.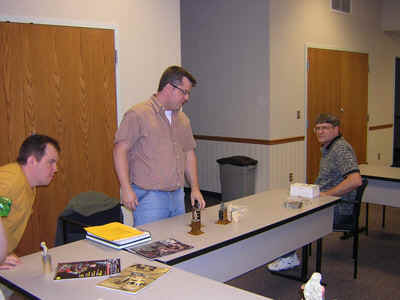 3. Jim writes bios about his converted figures. Here Jim points out his bio for his Volkstrum.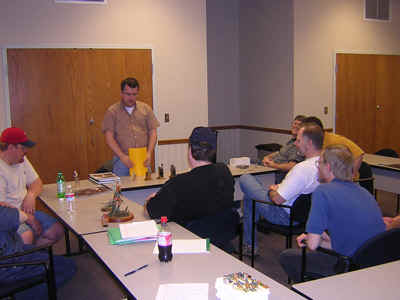 4. The official Horan bible.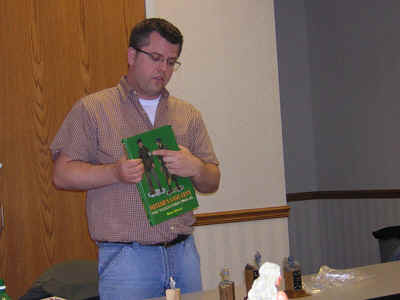 5. View #1 of Jim's converted Volkstrum figure.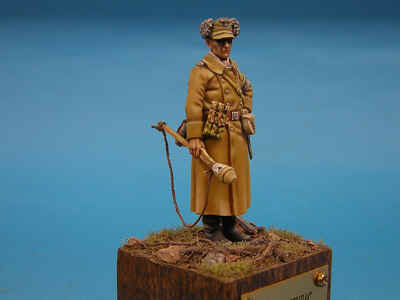 6. View #2 of Jim's converted Volkstrum figure.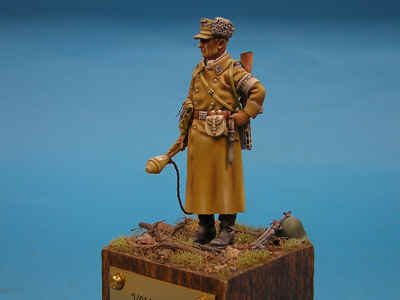 7. View #3 of Jim's converted Volkstrum figure.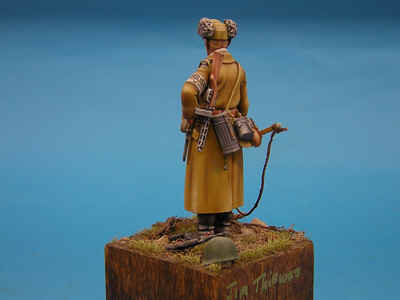 8. View #4 of Jim's converted Volkstrum figure.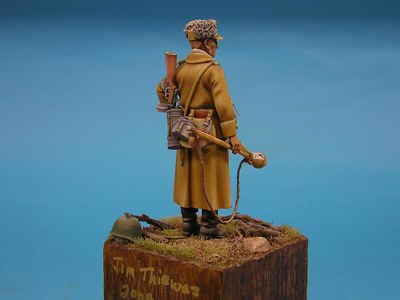 9. Mark is very prolific with his armor pieces. This is the Tamiya M8 with Academy MG, crew and accessories.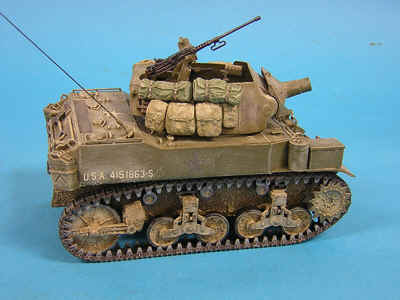 10. Mark is even doing some German armor this is Tamiya's Sturmgeschutz III Ausf. G and crew with Italaerei and Academy accessories.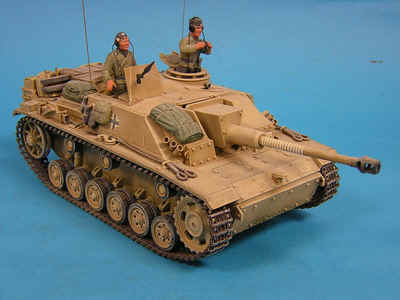 11. Another German armor piece by Mark this time DML's PzKpfw III Ausf. L with Tamiya crew and VLS accessories.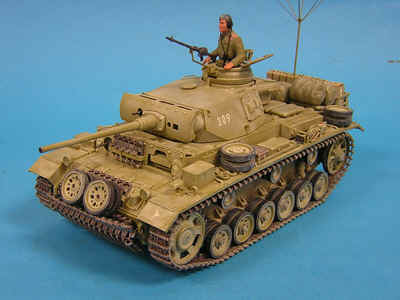 12. This sultry female figure is a 1/8 scale SOL Ney Female Archer that Wayne modified to make her less bare-chested and finished in oils.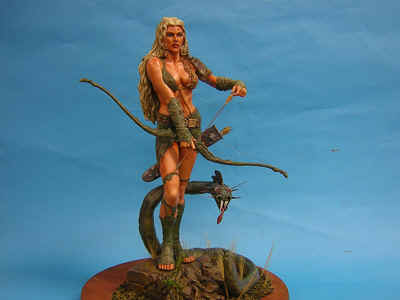 13. The Pawnee bust was manufactured by Poste Militaire and finished magnificently in oils by Wayne.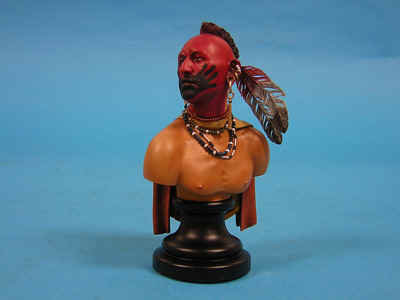 14. Wayne is even doing some vehicles. This is his version of Academy's Me-109E in 1/72nd scale.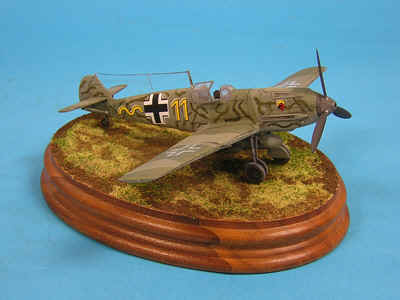 15. Scott P. is trying his hand at sculpting by creating a smiling Princess Lea from Star Wars.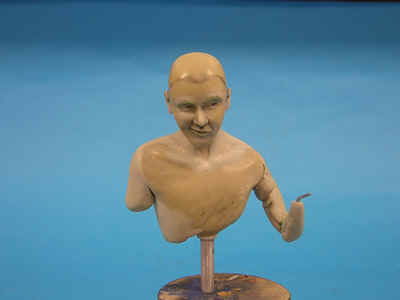 16. At the Militaria show Mark put on quite a good display of his armor pieces.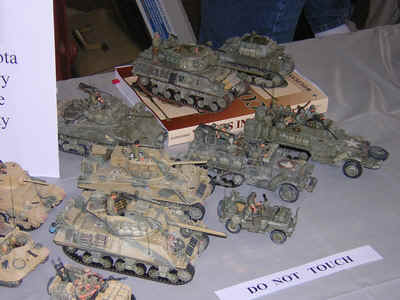 17. Armor by Don B. and Curtis and aircraft by Merrill at the Militaria show.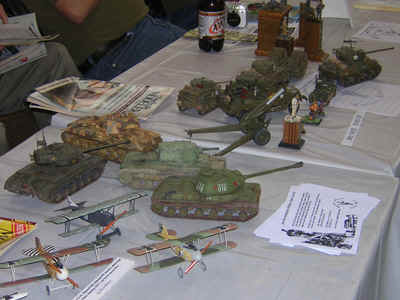 18. This is the view from the South end approaching the MMFS display after entering the show room.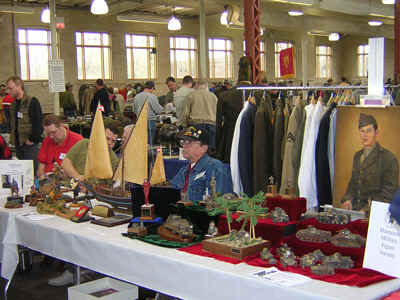 19. Gary wanted a photograph of this Pacific diorama because 'the light is just right'.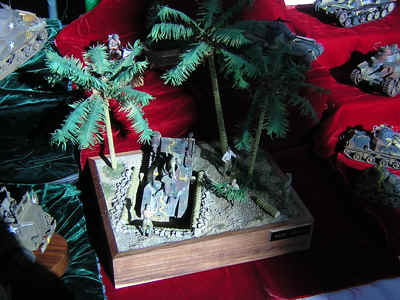 20. Here the proud owner of all those first place medals and the model ship that won them sits behind his work, Gary Anderson.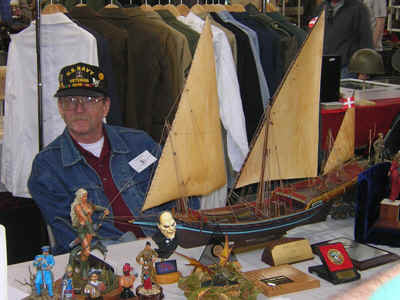 21. Jim sits and chats with MMFS guest Yogi, a veteran of the Eastern Front in WW II.


22. Here members of the MMFS congregate in front of the display tables at the 2006 Militaria Show in
St. Paul, MN.