GOOD MORNING MINNESOTA!

Yep, it's update time (for even those of you who do not live in Minnesota). Remember our next meeting is THIS Friday, March 10, 2006 7:30 PM at Flemming Field, Inver Grove Heights.

We will recap the events of the February meeting and give a run-down our upcoming March meeting.

February Meeting

Attendance has been slack of late but those adventurous to attend our February meeting were Wayne, Scott, Gary, Merrill, Mark, Bernie, Ed, Chris and Jim.

It is hoped that our club cards will be available for our March meeting. Show those cards (even if you have an old one) at the local Hub Hobby stores and receive a 10% discount on all items except books and magazines.

The 'Hope it doesn't snow' Show (what we like to call 'The Rochester Show) was discussed. Once again it was fun because of the warm hospitality of the Zumbro Valley modelers group hosting the event and some good local restaurants. There was discussion about their 'master's' section, mainly some disagreement about the judging and how the part was set up. But overall it was mostly a positive response to the event.

Other events coming soon are the Madison show on March 18 and the Iowa show on April 22.

There is a conflict with the Militaria show and the Iowa show both being on April 22nd. All the members attending were committed to attending the Militaria show instead of the Iowa show. Jim is asking all those planning on attending the Militaria show and displaying to please donate $10 to cover the cost of the table. Most planning on attending will be there on Saturday only and it is more or less officially stated that we will be putting on our display only the one day. Jim is committed to being at the Militaria show both Saturday and Sunday so those of you wanting to be there both days please inform Jim.

February 24th was an official paint-in at our meeting place set up by Chris. Ed was in attendance.

All present agreed having a meeting at Pat Gallagher's home sometime in the future. We will set a date when we hear back from Pat.

Bernie informed the MMFS that the TCAH will be hosting Nordicon again this year. We want to give a big thanks to the TCAH for sponsoring the event. Checking their web site reveals the event will be in September.

Demo

Gary Anderson set up February's demonstration with assistance provided by Merrill Anderson (are they twins?).

Gary's demo consisted in 1 to 1 scale re-enactment or living history as a Scottish Re-enactment Troop portraying the 30 years war 1616-1642 in Europe. Gary stated that Gustavus more or less started the concept of uniforms in post medieval Europe. A lot of formations and fighting tactics revolved around artillery warfare. He also said that the word 'plaid' was a Gaelic translation of the word 'blanket' which was an important part of early Scottish militaria attire. This 'blanket' eventually turned into the kilt. The cut of the kilt pattern also determined its stretch that Gary demonstrated of the two different trousers that Gary and Merrill were wearing. All the weapons that Gary presented were actual weapons whereas the re-enactor generally makes the uniform and pieces or bartered and traded with other re-enactors very much like the actual soldiers. One point that Gary wanted to stress that the idea of 'living history' is a bit different than re-enactment in that the events stress the actual living conditions at the time. Generally the living in the field along with men, women and children taking part in the event. Gary also showed many of the personal fighting tactics and weapon use with a lot of practical use, some that he developed from experience. Thanks Gary for yet again a very interesting and informative demonstration.

March Agenda

Coming up for March are the following items:

Information of the upcoming April 22nd Militaria show

Plans for the March 18th Madison show

Discussion of logo again?

Demonstration planned for World War II re-enactment equipment. Unfortunately family business has curtailed Chip Child's ability to partake this month with the demonstration but the Allied side may still take place.

Photographs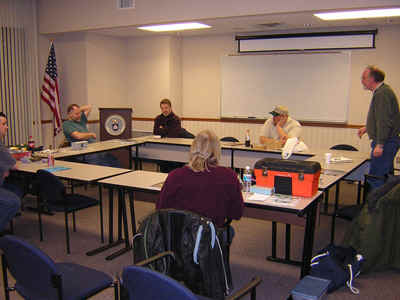 01 Merrill takes offense to something Chris has said. Just wait until Merrill gets his sword later in the evening!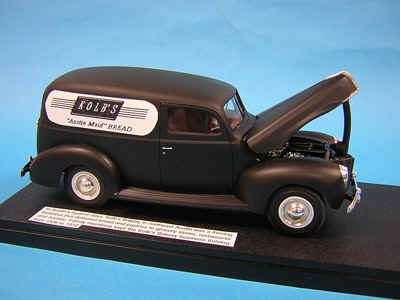 02 Ed made this panel van from an AMT Ford Delivery Sedan in 1/25th scale. The custom markings were made depicting a family photograph.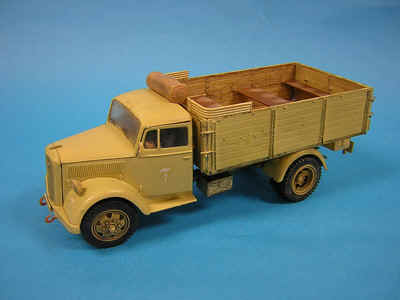 03 Ed's version of the venerable Italaerei Opel Blitz in 1/35th scale, DAK markings.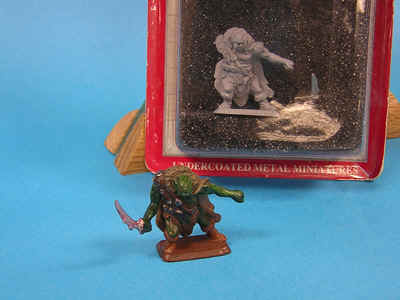 04 25mm wargaming piece titled 'ORC" from Lord of the Rings. A great job on such a small piece.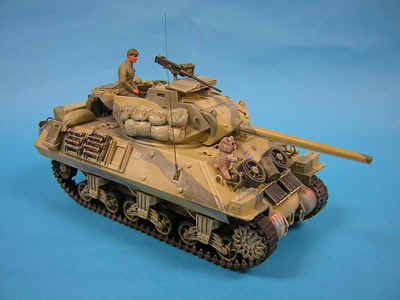 05 Mark did a great job on this British M10. Mark made the vehicle marked as the 4th A.T. Regt. A Batt FDC Canadian. It is the Academy kit in 1/35tth scale with a Legend and Italaerei crew.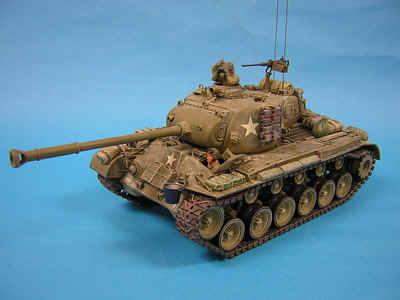 06 Mark's next armor piece is the DML M26A1 Pershing as used in Korea. It contains a Tamiya crew, Eduard photo-etch with Legend and VLS accessories. Great job on one cool tank.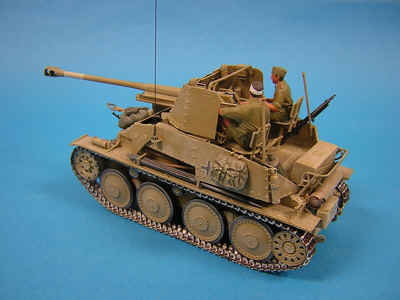 07 Another mark original is this Marder III of the 21st Panzer Division using the Tamiya kit. Shells and accessories are Tamiya with a Tristar crew. Nice work on a very interesting vehicle.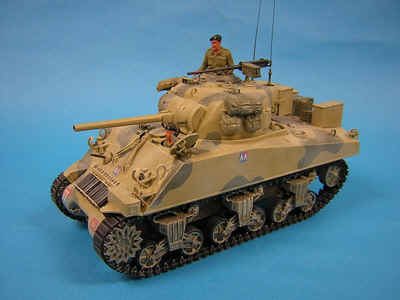 08 Mark's final piece is this M4A2(w)75 of the Canadian 4th A.T. Regt., A Batt. Using the Academy hull and Tamiya turret. Crew and accessories are from Tamiya along with Academy accessories. These Canadian subjects are very interesting.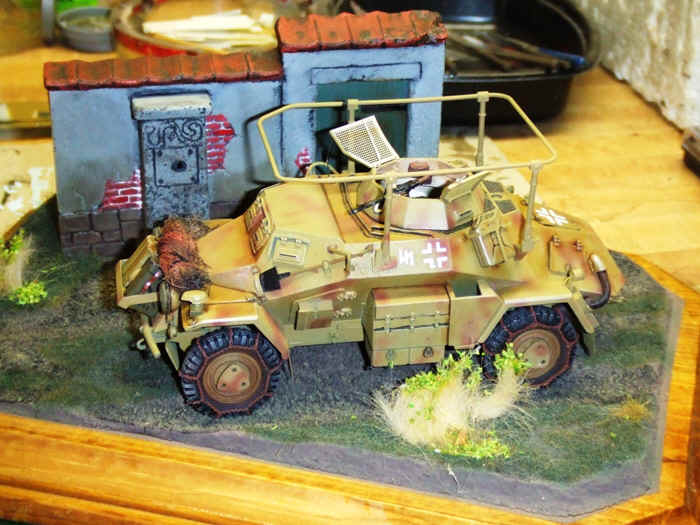 09 Chip e-mailed us one of his latest subjects. It appears like Tamiya's Sd.Kfz 223. Bring it to the meeting Chip so we can get a closer look.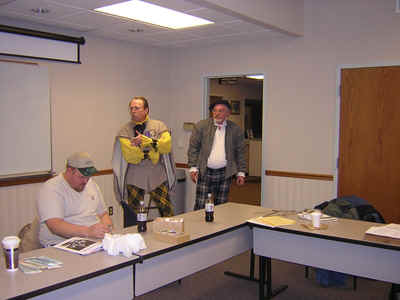 10 Gary begins his demonstration of the Scottish Clan Tartan living history. Scott bows his head in reverence.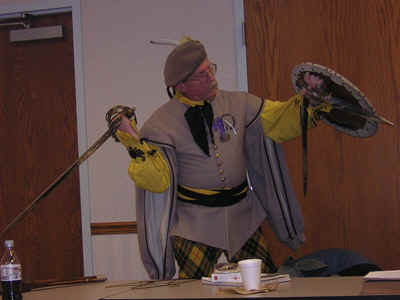 11 Here Gary demonstrates the proper use of his saber and shield. Seems he scared off Merrill.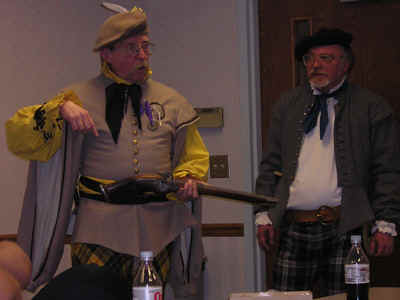 12 Gary points out his 'piece' is bigger than Merrill's.


13 Gary demonstrates how accurately fire his pistol. Later Merrill will demonstrate how to properly collapse from a musket wound.