It's time again for another update of the MMFS. First, since there has been no confirmation about our alternative meeting location for our July meeting the meeting scheduled for July 14th will be held at the regular location (Fleming Field) and time, 7:30 PM.

Our last update has been delayed and there will be updates for both the May and June meeting this month.

May Meeting

Those that were adventurous enough to attend our May meeting were Ed, Wayne, Curtis, Scott, Don B., Bernie, Mark, Chris, Merrill, Jim and Rick. We were most fortunate to have John Larson return after a long absence. He treated us all to his rendition of the Fine Molds kit of The Millennium Falcon. Wow what a kit and of course John adds his own fantastic flavor to the kit. Another surprise visit was from an old member from back in the 1980s was Jack Anderson. Very few of us remember when Jack was the main publisher of the old Sword & Saddle monthly newsletter that used to be published by the MMFS. Nice to see Jack after such a long absence.

Items for discussion at the May meeting were:

-April militaria show- all agreed that the show was a lot of fun and a good way to put out news of the club. Though we are always looking for new members we seldom get any from the show. Still the militaria collectors enjoy our efforts and we always get a good response from the crowd. Yogi Pusch is always a crowd draw as well and it is great to hear all his stories.

-Nordicon 2006- Our friend Bob Maderich will be in charge of the show this year. Official date of the show will be September 23rd. The TCAH are always looking for ways other local clubs can help out so contact Bob if you are inclined to assist with the show.

-Logo- Everyone in attendance voted to confirm our logo. All material concerning the MMFS from this point forward will use the accepted logo. This of course does not mean that on a future date the logo could be changed or modified.

-Club history- with Jack Anderson at the meeting a goodly part of the evening was going over history of the MMFS. It started out in the1970s as a history club and figure painting group located at 'Little Tin Soldier' shop located on Lake Street in Minneapolis. During the 1980s it evolved into a gaming/figure painting group. With the demise of the 'Little Tin Soldier' the group moved to various parts of the Twin Cities and evolved from just gaming and figure work. It was interesting listening to Jack and giving many of our current members some insight of the founding's of the MMFS.

May Demo

Bernie gave us a very informative demonstration about how he goes about finishing and weathering his military vehicles. Bernie was kind enough to submit a written format of his technique that is attached to this newsletter.

May Photos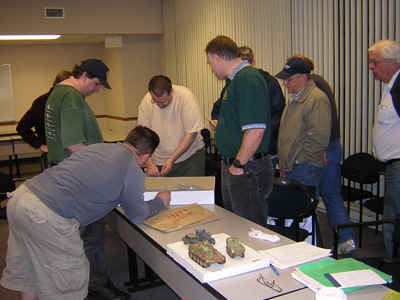 01. John digs out his version of Fine Mold's Millennium Falcon. Everyone is in awe.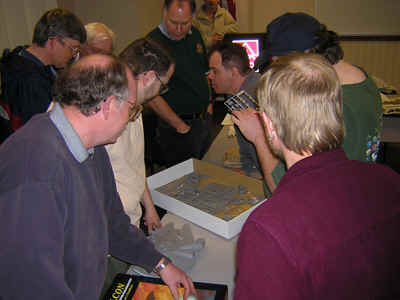 02. Closer inspection of John's efforts on the kit. As always he has done some modifications. Takes a lot of guts considering the cost of the kit.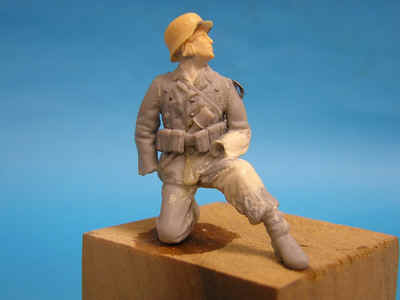 03. This is Jim's next figure creation. A lot of people have been helping Jim out with feedback on his creation and Jim is executing a very nice pose. The figure is a modified DML figure.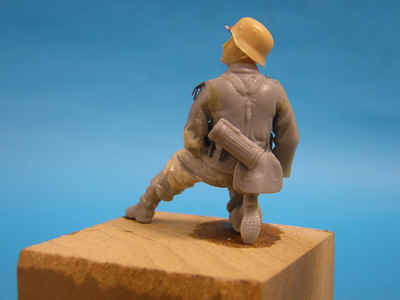 04. Back view of Jim's newest creation.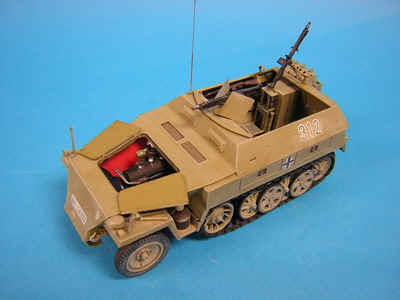 05. Mark's DML Sd.Kfz 250/1 Neu. It looks like a great little kit and Mark has once again done a very nice job finishing the vehicle.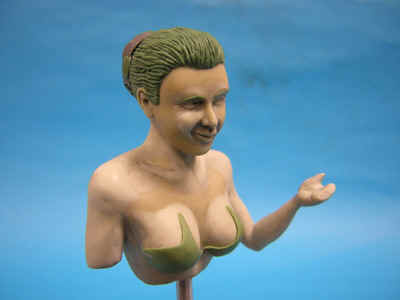 06. Scott's Princess Lea is really starting to fill out (wink..wink). Scot has challenged himself with quite an effort for his first try at sculpting a figure. Some of the detail in the hair is quite stunning.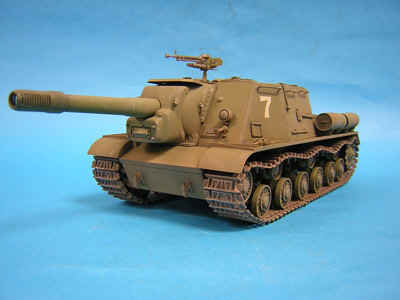 07. Bernie later in the evening demonstrated how he comes by finishes such as this ISU-152 vehicle. The kit is the Zvezda kit straight from the box.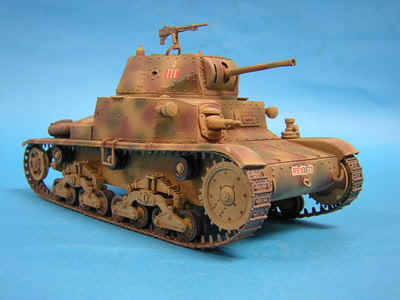 08. Another Zvezda kit by Bernie this time the Italian M13/40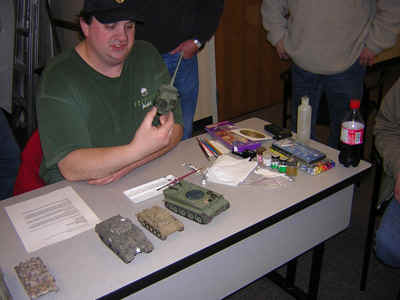 09. Bernie threatens the crowd with discipline using the turret of a Tiger as a whipping stick.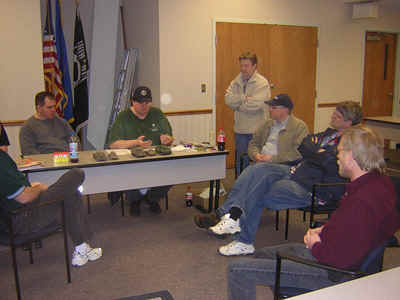 10. Before the start of the demo Bernie blesses the crowd. All are quiet with respect.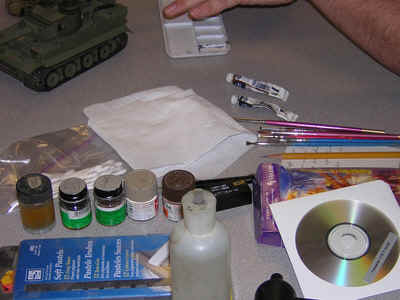 11. A view of the materials and tools Bernie will use for his demo.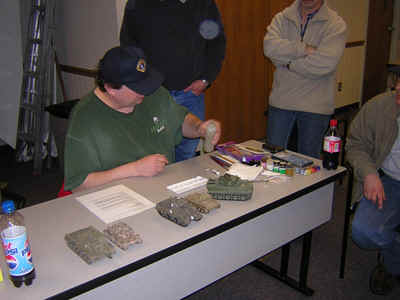 12. Bernie prepares the vehicle for using watercolor washes.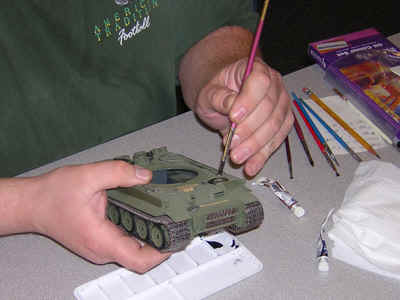 13. Here Bernie applies a watercolor wash to the hull of an Italaerei Tiger I.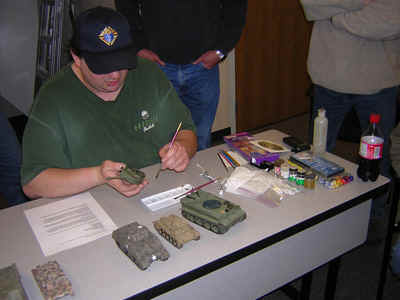 14. Applying washes to the turret.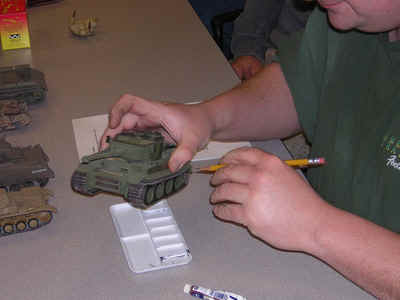 15. For worn areas on the vehicle Bernie uses a pencil to show worn paint and metal exposed.

June Meeting

As usual for summer meetings attendance was down. Those that did decide to attend were Chris, Gary, Ed, Merrill, Don B., Jim, Bernie and Scott.

Topics for discussion:

-Meeting at pat Gallagher's- An old member from year past, Pat, has offered to host a meeting of the MMFS at his home. It was decided that the July meeting would fit. If no confirmation from pat is heard the meeting will be held at the normal location and time.

-Membership cards- They are still coming. Locating the new logo has been the holdback. As soon as the new logo is master is found the cards will be available for paid members.

-Awards- Gary Anderson attended the model show in Faribault. Once again he took several high awards for his sailing vessels and figures. He compared the Faribault show to being similar to the Zumbro Valley show.

-Paint-in- Jim announced that when his house is finished being remodeled he plans on sponsoring a paint-in at his home.

-Nordicon- A reminder of the Twin Cities Aero Historians Nordicon in September. Assistance is always welcome.

-IPMS Nationals- There was mention of the IPMS National Convention to be held in Kansas City August 2 –5. Some members of the MMFS were planning of attending. Contact Don B. or Rick for further information.

-Scottish Festival- Gary reminded the people at the meeting of the Minnesota Scottish Festival to be held at the Dakota Fairgrounds on July 15th. Gary is part of the Clan Tartans that will be in attendance at the festival.

June Demo

Chris was our guest as the demonstration master for our June meeting. His topic was "I'll come up with something" which turned out to be metal finishes on figures. His preferred method is to use metal cast figures that he prepares the surface using glazes and washes. He starts by brushing the surface with a brass brush to start the polishing effect. Once the figure is cleaned with the brass brush a printer's burnisher is used to smooth and polish the surface. Using a glazing medium and oil paints Chris uses various colors to coat the surface of the burnished metal to create various metal effects. Payne's Gray and Winsor blue were a couple of colors he mentioned to create steel effects. When the glaze is still wet he rubs the surface with an old sock (preferably washed) to highlight the surfaces. The finished effect is quite stunning.

June Photos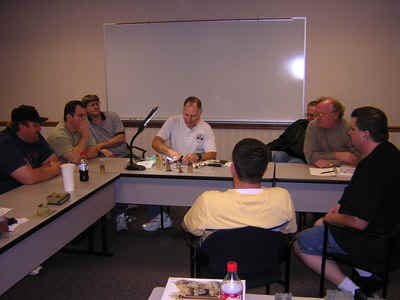 01. Chris grabs the attention of the crowd.


02. Chris demonstrates why he uses a brass brush to clean his teeth (it's those darn braces).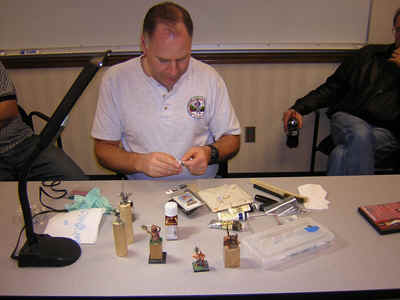 03. Materials used to create the metal effects. Notice the Payne's Gray, Raw Umber and Winsor Blue oil paints.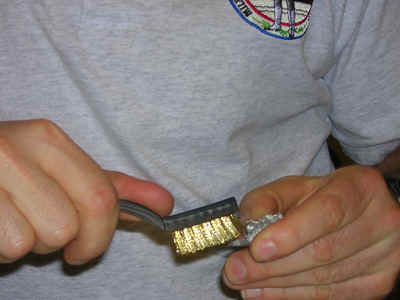 04. Using a brass brush to clean the figure.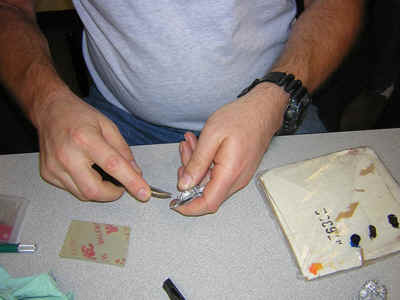 05. Using the burnisher to polish the metal.

July Update

Our meeting will be held at Fleming Field, Inver Grove Heights July 14, 2006 at 7:30 pm. Main topics for discussion will be upcoming shows and our August meeting. At this point and time our August meeting will be a summer social affair held at Chris Barrett's home on Saturday August 12th. Demonstration for our July meeting will be on using Vallejo paints. Even though it's summer let's see all of you people there at the meeting!