Electronic newsletter time folks! Hopefully this will wind its way to you prior to our December 'gathering'. <Mike thinks he is a comedian Ed.> So let's get to the meat of the newsletter and find out what happened in November


November 2006 meeting


We had a pretty good turn out in November with Scott, Chris, Curtis, Jim, Wayne, Mark, Merrill, Dave N., Chip, Gary, Bernie, Don B. and a couple of members from the TCAH showing Bob Ferrera and Steve Jantscher showing up for our meeting. It would be nice to see all these folks and more at our December party meeting.

-News discussed at the meeting worked around mainly the Chicago Show. Wayne did some calculations and said the show was actually bigger this year than last. The venue was larger so it seemed smaller. Wayne said he counted 600 + entries (wow-to go around and count all those entries must have taken some time). MMFS members did well and represented the club well with several medals awarded. Our latest gold medal winner was Scott Primeau with his sculpted bust of Princess Lea. Asked how it felt his quote was 'It was nice'. Check out Scott's piece on our web page.

-Gary Anderson wandered up to North Dakota for the "models on the Prairie' show in Fargo. He equated it to the Rochester show or maybe a tad bit smaller. The model show was run in conjunction with a toy collector's show. Gary pulled away with many best of class in aircraft (DR-1 ), ships (Cherbet), figures (French Hussar Trumpeter) and 1st place in wargame, figure and sail ships. Way to go Gary! Gary said it was a bout a 4-hour drive to Fargo from Minneapolis.

Gary brought an old article that featured the 'Tradition' line of figures that Ed and Miriam Studer use to sell out of their home. Us old folks remember the kind generosity of the Studers towards our club and the great Holiday parties they threw for us at their home during December.

Members are anxious about hearing from Don Scott. Everyone was wondering if Scott is all right since we have not heard from him in months.

Plans are already getting started for the February Rochester show. The dudes in the Rochester area are very friendly and love putting on their show. They also have some top-notch modelers there that are well worth seeing.

Jim stated he plans to have a paint-in at his home on November 25th. Who is going?

We started demo sign-ups for 2007. Don't be shy people. This is a club where we all like to share.


Demo


We were blessed to have Chris Berg come out to our meeting in November. Chris owns and operates the business 'Tank Rides'. Chris bought the business from Bob Bockmin as a part time venture but is finding that he may have to go full time. Chris gives rides of $150 per person (2 needed) for an exciting 20-minute ride in a Soviet 1944 era T-34/85 (vehicle was purchased from a Polish museum and documented that the tank was captured and used by infamous German Wiking unit). This includes working the turret and guns and a rundown prior to the ride. He has modified the tank slightly to update the vehicle to that operation is more reliable. Chris' tank has been featured on National Geographic documentaries. Rides have been sold to individuals from across the country with probably the biggest name coming in from people at Industrial Light and Magic.

A sideline to Chris' tank rides is that you can purchase rounds to fire from various machine guns. He charges $.50 per round to fire with a range of weapons that include WWI vintage Vickers and Maxim machine guns, WWII US .50cal and .30 cal and German MG 34. There is also the modern UZI.

Chris brought along a couple of his guns for display. Everyone was enthralled with his talk and Mike Bedard was able to compare notes of driving a Sherman tank compared to what Chris describes about the T-34. Curtis is saving his $$$ for a birthday present for himself next year to ride on Chris' T-34.


Photographs


01. This is Jim's Volkssturmmann. Jim won best figure at Nordicon and a bronze award in Chicago this year for the figure.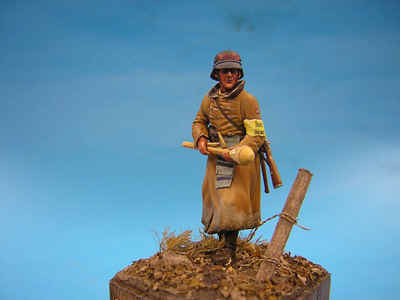 02. A side view of Jim's figure. It is amazing how far Jim has come in just a few short year's with his figure conversions.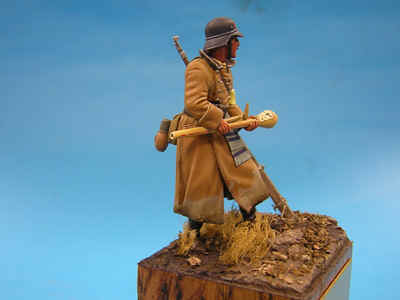 03. Rear view of Jim's work.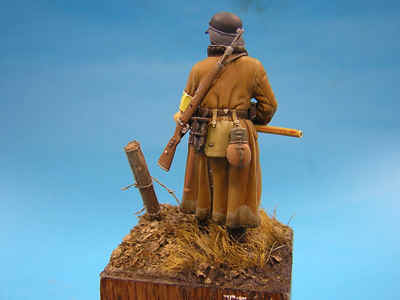 04. This left side view shows how a simple pose can be dramatic. Jim stated that the conversion consisted of DML body, Warrior head, lead foil straps and acrylic base coat finished with Winsor/Newton oil paints.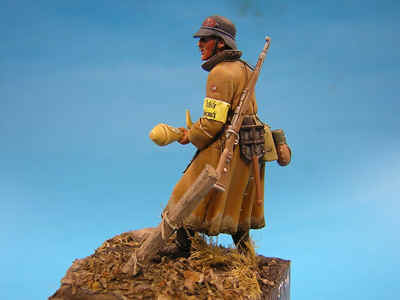 05. Mark brought in this 1/35th scale early M4 Sherman. Looks well worn.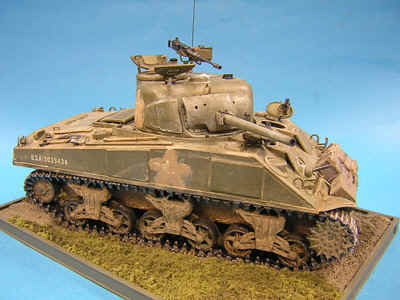 06. This shot of Mark's Sherman shows all the work he did to install the Panzer Concepts interior, Tiger Model Design hatches, Eduard photo-etch and Aber barrel. Fantastic!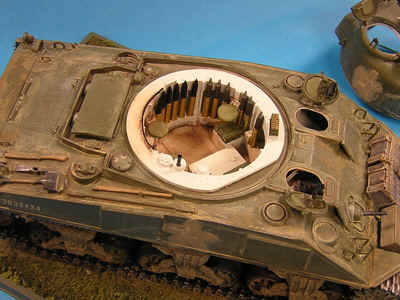 07. Don B. usually does WW Ii subjects but this month brought in a more modern piece. This is Tamiya's M113 ACAV. He added Eduard photo-etch and Fruilmodel tracks.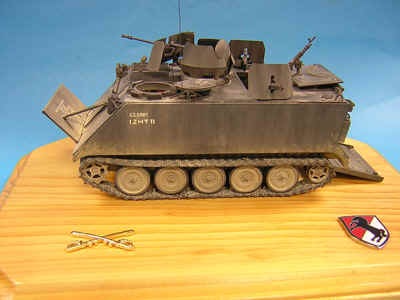 08. A very nicely done up interior accompanied the M113.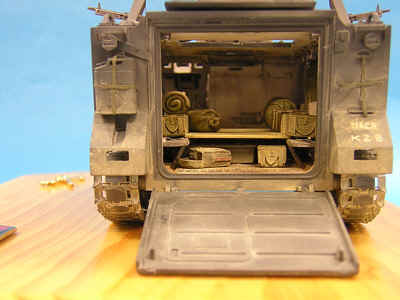 09. A visiting guest from the TCAH Steve Jantscher brought in a great example of the newer DML M4A1 (76)w Sherman. Steve said it was out-of-the-box. It must be one heck of a kit or Steve did one great job OOTB!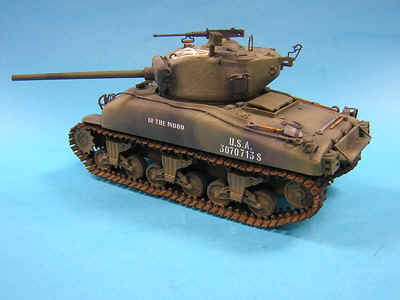 10. Chris Berg of Tank Rides with a Vickers and Maxim machine guns for members to view.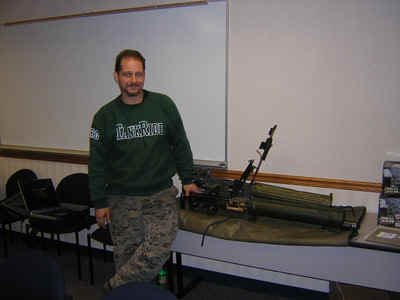 11. Chris answers questions about running a business giving tank rides.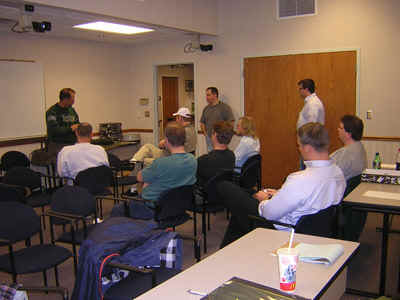 December Meeting


Hope many of you can make it. It is our annual social gathering. Many people bring extra friends or family. It is more of a social gathering. Movies are shown, food is eaten and generally a good time. Many members bring in the preverbal 'fruitcake' model collection pieces to donate for a raffle. Usually everyone finds something of great interest in the raffle table. Chip plans to be there to collect dues for 2007. A sign-up sheet will be there also for demos in 2007. If you want models photographed that will be available also. Winston plans on bringing up his model store again for those Christmas purchases. Hope to see you there Friday December 8, 2006 Fleming Field in South St. Paul 7:30 pm!