July Meeting

It was a very warm Friday evening that Scott, Don B., Wayne, Chris, Merrill, Mark, Gary, Bob and Jim attended our July meeting. Summer months are usually down in attendance but this was pretty good for a Friday in July. Chip has informed the membership that due to family needs he will not be able to attend any meetings until September.

-Bernie informed the MMFS membership that the TCAH will be hosting a paint-in at Fleming Field Friday July 27 from 7:00pm.

-Mentioned at the meeting that Jacques will not be attending to our web site due to health issues with his mother. Our thoughts go to you Jacques and please let us know how things are going.

-Wayne brought information about our club shirts. He stated that there is a $50 set up fee that the membership in attendance decided to pay for from our treasury. There will be a minimum of 25 shirts to be ordered to obtain a price of $28.95 per shirt. The logo was decided to have a white background with black image and lettering. Sand is the color with the most votes for the shirt color. If you are interested e-mail Wayne at weberwood@comcast.net to get information to whom to write checks and size of the shirt you desire.

-Our August meeting will be a field trip to the Minneapolis Institute of Arts to study the masters and painting realistic skin tones and fabric. We will meet in the main lobby at 10:00 am and then tour the artwork. We will reconvene back at the lobby at 11:30 am and those that wish to have lunch we will go out together. We decided the third Saturday so those MMFS members that also attend the TCAH meeting will not be inconvenienced. Once again our August meeting will be at Minneapolis Institute of Arts Saturday August 18 at 10:00 am. The Institute is located at 2440 Third Avenue South.

-Discussion about the MMSI show in October came up. It will be held in Schaumburg, Illinois on October 12 and 13, Jim stated he would like to hold a pre-MMSI show gathering at his home. Let us know when Jim.


Demo


Not so much of a demo this month but a show and tell. Scott Primeau showed us his drying box that he made. The craftsmanship of the woodwork is outstanding. At this point Scott uses a 60w bulb and leaves his work in for a maximum of about 6 hours. Merrill suggested an exhaust hole to let out fumes and maybe lengthen the time figures could be placed in the box. Jim was so impressed that he ordered one from Scott at only $450!


Pictures


01. Last month Wayne treated us with a glimpse of the vignette 'Fall of Berlin'. This month Wayne has brought the finished product. The vignette is available from Verlinden. Really nice finish on the piece Wayne.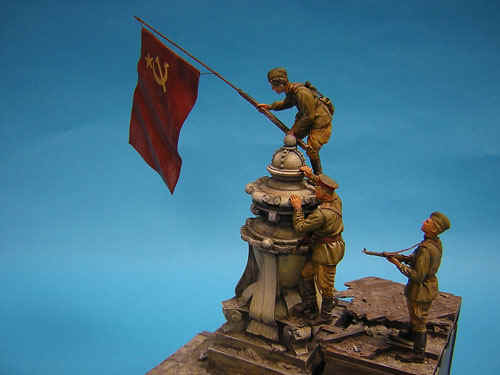 02. Another view of Wayne's 'Fall of Berlin'.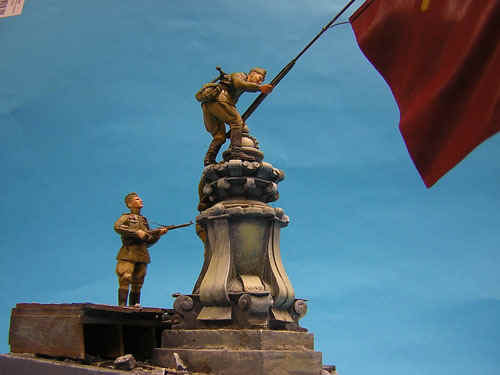 03. Wayne used acrylics and oils to complete this Elf Archer Bust. Wayne skills are getting better all the time. Wayne stated that the bust is titled 'Usimitu' and comes from an odd named company called EZ046.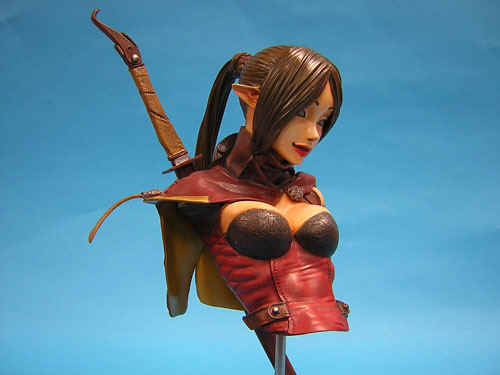 04. Mark Jacques took the old DML E-100 and updated it with an Eduard barrel. A very nice finish on a vehicle that never existed fully as shown. This beastie is BIG! It might dwarf a Tiger tank.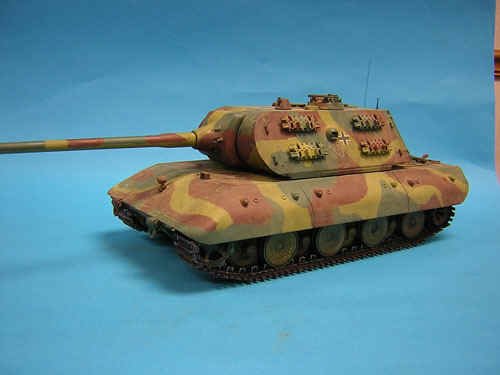 05. Gary has treated us once again with one of his superb sailing vessels. This time it is Christopher Columbus' flagship Santa Maria. Heller makes the kit in 1/75th scale. Gary states that he hand painted the model to obtain the outstanding finish. You could swear that it is real wood. Gary replaced the cannons and large cutter otherwise it is a stock kit. He used embroidery thread for the rigging. He prefers this to ship model rope for its flexibility.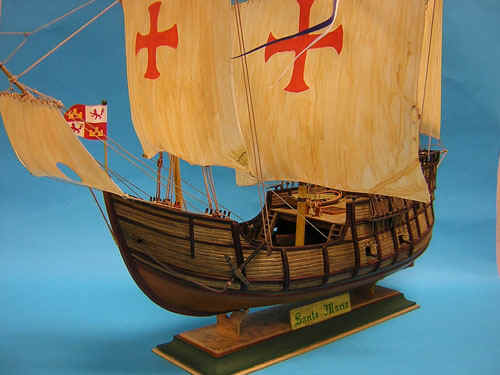 06. A view of the stern of the ship.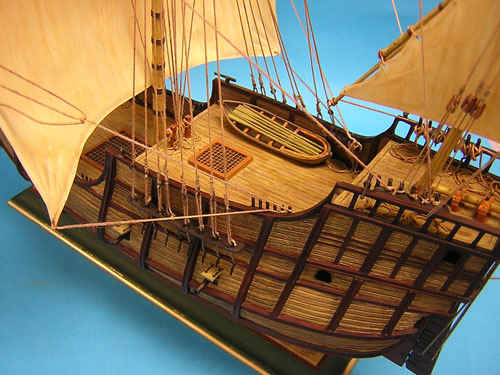 07. A poor close-up of the detail on the ship.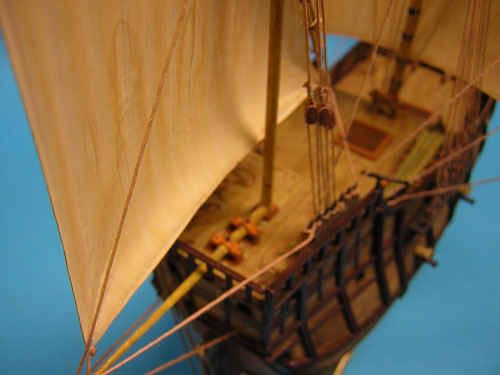 08. Scott begins his demo by enticing the crowd with his box. Jim is hoping for a Bill Horan diorama inside.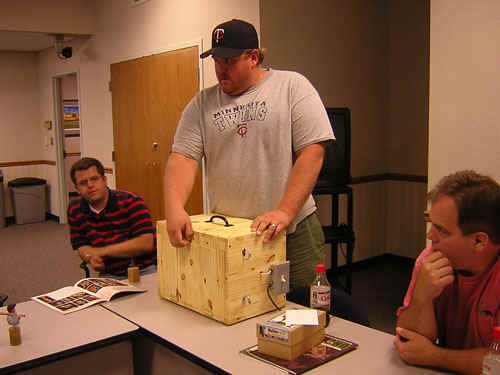 09. Leaning over the drying box Scott demonstrates the sturdiness of his construction.


10. Scott's latest bust inside showing the dimensions of the box.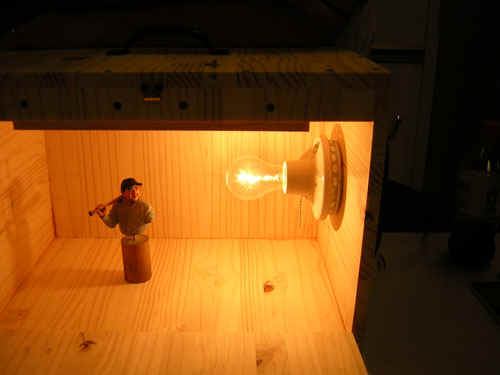 August Meeting


As already stated in the July minutes our August meeting will be held at the Minneapolis Institute of Arts on Saturday August 18. We will meet as a group in the main lobby at 10:00 am and then proceed from there. There is no formal tour and we will look at the works that interest most. An excellent picture of dramatic realistic lighting, skin tones and fabric rendition is 'The Carpet Merchant' by French artist Jean-Leon Gerome.
We plan to meet up again at 11:30 in the main lobby for those interested in going to lunch.

So be there at the Minneapolis Institute of Arts, 2400 Third Avenue South, Minneapolis at 10:00 am August 18, 2007.